GENERALI ZAVAROVALNICA
Welcome under the wings of the lion.
The Generali insurance company is part of the Generali Group, one of the largest global providers of insurance and asset management. With almost 200 years of tradition, we are the leading insurance group in Europe. We employ around 75,000 people in 50 countries and cooperate with 67 million customers around the world.
The Generali insurance company has been active in Slovenia for over 25 years and is the leading international insurance provider in the Slovenian market. For a number of years, we have been recognised as the top insurance company as measured by client satisfaction.
Our mission is to ensure your everyday safety. As a life-time partner, we want to stand by your side in all life situations when you need us.
We develop for you a comprehensive and high-quality range of insurance products and services. Contact us at 329 points of sale with more than 850 insurance agents across Slovenia.
Our advantages
A complete set of innovative insurance and financial products and additional services provides for the safety of individuals, families and their assets. We offer tailored insurance, high-quality and modern insurance protection, consultation and quick assistance when resolving claims. Two major advantages of our insurance service are effective claims management and assistance.
Non-life insurance encompasses a comprehensive selection of insurance and property insurance services (cars, immovable and movable property).
Health and accident insurance provides better social and financial security in case of illness, long-term medical treatment and serious accidents, as well as quicker access to doctors and specialists. We are one of three complementary health insurance providers in Slovenia and also the longest-established, as well as being the country's largest provider of supplementary health insurance. We have our own health assistance centre and a specialist clinic.
Our life and pension insurance policies include various classic and investment life insurance options and tailored pension insurance so you can be secure and make savings at every stage of your life.
Asset management and financial consultation provided by Generali Investments.
Our history
The GENERALI insurance company has been present in the Slovenian market since 1996. We concluded our first insurance contract on 1 January 1997. We were initially known as the Generali-SKB insurance company or Ljubljanska zavarovalnica. We have been operating under our current name since 2001, when the Generali insurance company of Vienna became our 100-per cent owner. In 2008, we became members of the Generali CEE Holding, and since 2006, we are the largest foreign insurance company in Slovenia as per market share. On 3 January 2020, we merged with the Adriatic Slovenica insurance company, and have since been active in the market as the GENERALI insurance company.

COMPANY PROFILE
GENERALI zavarovalnica d.d.
Kržičeva ulica 3, 1000 Ljubljana, Slovenia
T: +386 (0)1 47 57 100
F: +386 (0)1 47 57 101
Toll-free number: 080 70 77
E-mail: info.si@generali.com
Registration number: 5186684000
ID for VAT: SI88725324
Share capital: EUR 39,520,347.18
Number of Shares: 2.364.563
Ownership structure: Generali CEE Holding B.V. 100%
Supervision: Insurance Supervision Agency, Trg republike 3, 1000 Ljubljana, Slovenia
Evidence of entry in the court register: GENERALI zavarovalnica, d.d. Ljubljana was entered in the court register at Ljubljana District Court under entry no. 10981500.

Associated companies
Ambulanta ZDRAVJE d.o.o.
The establishment and start-up of Ambulanta ZDRAVJE d.o.o. provided desired differential advantages or unique offer, enabling a partnership cooperation of the insurance company with its own health service provider, Ambulanta ZDRAVJE specialist clinic.
The foundation of the vision and business strategy of the company is to offer top health services to their insurers when they need them. Due to the establishment of the company's own outpatient clinic, the insurers receive priority treatment according to predefined processes and have shorter waiting periods. Find out more at https://ambulanta-zdravje.si/ (slovene only).
LEV Registracija d.o.o.
LEV Registracija d.o.o. was established in 2014 with the aim of increasing the level of customer service Generali zavarovalnica d.d. by making it easier, faster and thus more consumer-friendly to obtain and arrange all the necessary documents and procedures relating to vehicle insurance and registration. The company has an extensive business network in Slovenia, which consists of eight business units where customers are offered services or procedures related to the registration of motor vehicles and trailers.
Management of the company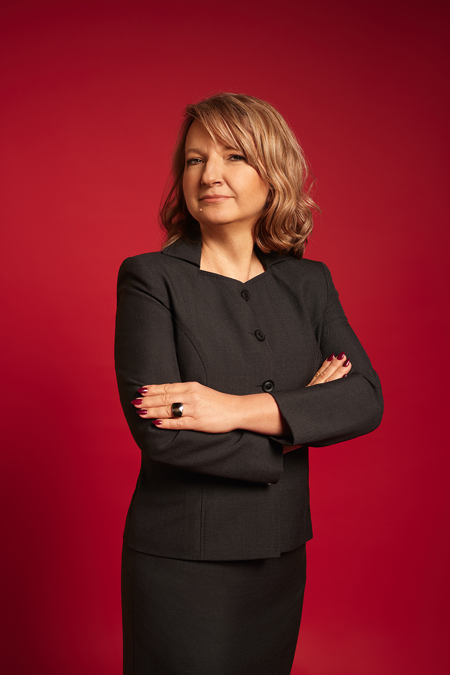 Vanja Hrovat, President of the Management Board
Vanja Hrovat, born in 1967, graduated from the Faculty of Economics of the University of Ljubljana. She began her career in the insurance industry in 1989 in the field of non-life and casualty insurance. She started working in the Generali insurance company in 1997, first as the non-life insurance advisor and later as the head of the claims and reinsurance sector. In 2006, she took over the management of the Department for non-life insurance development. In October 2008 she became a member of the Management Board, responsible for the non-life insurance development, claims and reinsurance. She became the President of the Management Board in May 2014. In 2020, Generali Slovenia, under her leadership, successfully merged with Adriatic Slovenica and in 2021 grew to the second largest insurance company on Slovenian market. Vanja Hrovat was also awarded the Honorary Charter of Beta Gamma Sigma (BGS) in 2022, joining over 750.000 economists and business experts worldwide.
Mitja Feri, Member of the Management Board
Mitja Feri, born in 1972, graduated from actuarial and statistical sciences in Trieste. In 1998, he took a job at the head office of the Generali Group in Italy as an actuary. Between 2006 and 2009, he worked for the La Caja Argentina (Generali Group) insurance company in the car insurance department and as the adviser for the Latin American companies of the Generali Group. He has been involved in the development of the Group's Solvency II internal model at the head office of the Generali Group since 2009. In 2013, he became adviser to the Management of Generali zavarovalnica d.d. in Ljubljana, and the director of the risk management sector in August 2015. At the end of June 2016, he was appointed member of the Management Board.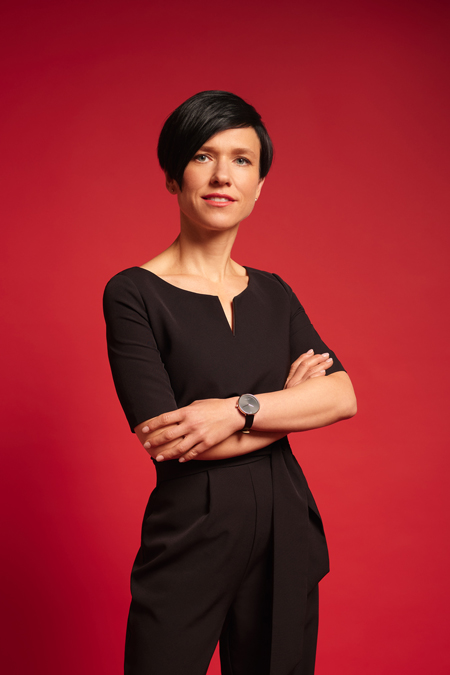 Katarina Guzej, MEMBER OF THE MANAGEMENT BOARD
Born in 1977, Katarina Guzej graduated and received her doctorate in 2008 from the Faculty of Economics, University of Ljubljana. During her studies, she received her education abroad (Kelly School of Business, Bloomington, USA), and has been practising numbers for almost two decades when she began her work in auditing. She joined the insurance industry in 2003 and for 10 years headed the controlling department at Generali, and in 2013 became director of the financial sector. In August 2019, she took over the position of Executive Director of Finance and Accounting at Adriatic Slovenica. In March 2020, she became a Member of the Management Board of Generali Insurance Company.
SUPERVISORY BOARD
Gregor Pilgram, Chairman of the Supervisory Board,
Carlo Schiavetto, Vice Chairman of the Supervisory Board
Miroslav Singer, member of the Supervisory Board
Suzana Meglič, member of the Supervisory Board, employees Representative
Matjaž Pavlin, member of the Supervisory Board, employees Representative
Generali is a major player in the global insurance industry. We aim at putting clients right at the heart of our business with simpler, smarter solutions, making our distribution network more effective with a wider range of services, and becoming an even more agile, flexible and innovation-friendly company. Over almost 200 years, we have built a multinational Group that is present in more than 50 countries, with nearly 71,000 employees.
In recent years we have been through a major strategic reorganisation that has allowed us to bring in greater focus on our core business, greater discipline in the management of our assets, and simpler, more transparent governance. This process has led us into a new phase, based on more efficient business models, innovative commercial strategies, and a stronger, more global brand. We also base our investment decisions on our commitment to environmental and social sustainability.
Global presence
Since the very beginning, our strong international vocation has set us apart and is one of our greatest strengths. Our geographical diversification is balanced between mature countries such as Italy, Germany and France, markets with high growth prospects (Eastern Europe), and emerging countries in Asia and Latin America.
Find out more about the countries Generali operates in (https://www.generali.com/worldtool)
Find out more about the Generali Group (www.generali.com).
Vision, mission and values
Our Vision, Mission, Values and Code of Conduct set the basic expectations for everyone who works on behalf of Generali.
Our Vision
Our purpose is to actively protect and enhance people's lives
Actively: We play a proactive and leading role in improving people's lives through insurance.
Protect: We are dedicated to the heart of insurance - managing and mitigating risks of individuals and institutions.
Enhance: Generali is also committed to creating value.
People: We deeply care about our clients' and our people's future and lives.
Lives: Ultimately, we have an impact on the quality of people's lives: wealth, safety, advice and service are instrumental in improving people's chosen way of life for the long term.
Our Mission
Our mission is to be the first choice by delivering relevant and accessible insurance solutions
First choice: Logical and natural action that acknowledges the best offer in the market based on clear advantages and benefits.
Delivering: We ensure achievement striving for the highest performance.
Relevant: Anticipating or fulfilling a real life need or opportunity, tailored to local and personal needs and habits perceived as valuable.
Accessible: Simple, first of all, and easy to find, to understand and to use; always available, at a competitive price.
Insurance solutions: We aim at offering and tailoring a bright combination of protection, advice and service.
Our Values
Deliver on the promise
We tie a long-term contract of mutual trust with our people,
clients and stakeholders; all of our work is about improving
the lives of our clients.
We commit with discipline and integrity to bringing this
promise to life and making an impact within a long lasting
relationship.
Value our people
We value our people, encourage diversity and invest in
continuous learning and growth by creating a transparent,
cohesive and accessible working environment. Developing
our people will ensure our company's long term future.
Live the community
We are proud to belong to a global Group with strong,
sustainable and long lasting relationships in every market in
which we operate. Our markets are our homes.
Be open
We are curious, approachable and empowered people with
open and diverse mindsets who want to look at things from a
different perspective.
Code of Conduct
The Code of Conduct applies to all employees of Generali Group, including members of supervisory and management bodies. In addition, third parties (consultants, suppliers, agents, etc.) who act on behalf of the Group are expected to adhere to the principles set out in the Code.
The Code of Conduct sets minimum standards of behaviour to be observed and provides specific rules of conduct in relation to the following issues: promotion of diversity and inclusion, assets and business data protection, conflicts of interest, anti-bribery and anti-corruption, financial information and insider dealing, anti-money laundering, anti-terrorist financing and international sanctions.
SOLVENCY AND FINANCIAL CONDITION REPORTS
Under the Solvency II Directive, insurance and reinsurance companies are subject to a broader review of capital requirements intended for detailed disclosure of their financial condition, business profile and risk management strategy.
The solvency and financial condition report (SFCR) is one of the documents drafted annually.